Our Process
Stories of hard work usually begin at dawn, but at Alaskan King Crab Co., the story begins decades ago.
That's when most of our fishing partners got started on the water. Today their children fish alongside them, upholding the family business while working with us to innovate and bring quality to customers.
1
Catch
Every fisher we partner with has generations of experience and adheres to the highest standards of safety and sustainability.
Our king crab comes from the Bering Sea.
Our salmon and halibut are always wild-caught, not farmed.
All of our shrimp and prawns are either American-caught or sourced from responsible international fishers.
Check our product pages for specific information on every item.
2
Flash-Freeze
At the conclusion of a fishing trip, the king crab or fish is brought inland to be sorted and cleaned. All king crab is cooked to perfection before being dipped in a below-freeze brine and getting a quick fresh-water rinse, which creates a protective glaze. The final step for fish and king crab is a flash-freezing process that locks in perfect taste and texture. Read more about flash freezing.
3
Pack
Your order is packed in insulated, eco-friendly boxes with liners, air cushions and more than 5 lbs. of dry ice to keep every item continuously frozen until it arrives at your door the next day. And if you're not at home when FedEx swings by, it'll stay frozen until you get home from work, too.
4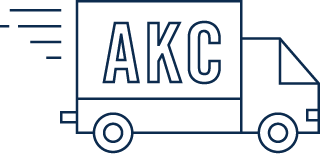 Ship
We ship everything overnight because we insist on quality – and the best way to guarantee perfection upon arrival is to minimize touch points and maintain temperature. Any opportunity for pre-emptive thaw (think: your grocer's chill chest or a three-day shipping estimate) degrades the quality of your king crab and seafood.
Because of our shipping commitment, the cut-off for next-day orders is 3 pm EST, Monday through Thursday. Any order over $300 ships for free!*
*Due to distance and transit time, orders shipping to Hawaii will incur an additional fee.
5
Arrive
Everything is individually vacuum-sealed, so you can thaw what you like and keep the rest frozen. (You'll want to thaw and enjoy within 2-3 months for best taste and texture, though.) We ask that you recycle or reuse the packing materials.
Because dry ice can cause injury similar to a heat-related burn, you should wear protective gloves (or use a towel) if you move the dry ice from its packaging. To dispose of the dry ice, place it outside and it will evaporate within 24 hours.